It has been a while since Hubspot has added a new product to its SAAS suite. The last product to be added before CMS Hub was Hubspot Service Hub , which Hubspot added in 2018. Compared to Service Hub though, CMS Hub seems much more focused on attracting new customers with this product release. Many of Hubspots existing marketing product customers already have access to most of the features sold as part of CMS Hub. So, what is part of CMS Hub exactly? What makes CMS Hub interesting as an entry point to Hubspots SAAS product suite and what are the use cases and benefits that Hubspot can offer with CMS hub?
What is a CMS and why is Hubspot offering one?

Let's start at the beginning. A CMS or Content Management System was invented and made popular with the rise of the internet in the 1990's. With many companies and people choosing to share content online, websites grew steadily in size and scope. Content Management Systems were used to provide the possibility for multiple users with different permission levels to manage content for a website or a part of that content. In other words, they provided the structure and framework to create and change content, where content creators could focus on writing content without needing to write code and where security and access could be managed.
There are traditionally 2 Core Parts to a content Management system. The Back-end also known as Content Management Application (CMA) which revolves around the creation and maintenance of the content and the front also known as Content Delivery Application (CDA). This focuses on delivering this content out your audience over your chosen channels. When content management systems were first developed, they were intended to help with creating content for static web-pages, but these days they need to offer a whole array of channels and media types (blog, email, social, video, chat, etc). They support publishing of this content to many different device types. Almost all Content Management Systems we use these days allow you publish across multiple channels and are based around expandable API architectures. We refer to these extended and open-ended architectures as Headless or Decoupled CMSs. For more on that, have a look a this blog post on contentstack.com.
When Hubspot started in 2006, they approached content from the opposite angle. Their focus was never on the management systems and technical terms. They focused on teaching their customers why things are done first and then showed them how to use their products and tools to get them done efficiently. Hubspot built a methodology that was entirely focused around how to make marketing more human and effective long term. They popularised concepts like buyer personas and the buyers journey to make sure that audiences and potential customers got clear and focused messaging and to make them feel supported throughout their interactions with brands. Hubspot offered the products to use this approach effectively but they never professed that their tools were the only way to do this. Their tools included landing pages, blogging and other content delivery tools. They offered corresponding reports to track interactions. Hubspot tools were built with the main purpose of generating organic traffic and then nurturing visitors rather than pushing them to buy before they were ready. The tools offered a back-end where marketers could create and manage content and developers and designers could create the style and layout to present it. While the word CMS (later rechristened by Hubspot to Content Optimization System or COS and now presented as CMS Hub) was almost only mentioned in training materials and howto's for existing Hubspot customers, you can clearly read that CMS features were always core parts of their product offerings. Hubspots CMS tools have grown as their product suite expanded. It is used to manage content throughout their entire range of products. Because the CMS features were never seen as product in itself, Hubspot customers traditionally needed to unlock content management and hosting features separately. This meant complex pricing tiers and made it hard for Hubspot customers to budget for these costs.
Over the last few years Hubspot has focused on improving a lot of its data management, security and usability features for content creators, publishers, designers and developers alike, making its content management system a very powerful tool in its all right. By creating a single product from all these features, they simplified the sales process and costings for existing customers that need to upgrade and provided a new and valuable product for potential new customers.
What is Hubspot CMS hub?
Hubspot CMS Hub is a subscription based content management, content hosting and content publishing system with lots of expansion possibilities. All the tools are entirely online and web based and part of its broader SAAS suite. This means there is no software install. All the tools live entirely online and you can access them from anywhere with an internet connection. CMS Hub is more expansive than your average CMS but has more features and lots of tight integration possibilities built in. Security of the hosted content (patching and thread protection etc.) is managed by Hubspot. Their platform is set up for GDPR and Data warehousing compliance so it can also be used for organisations in more sensitive industries.
Some core features that are included in Hubspot CMS Hub:
Content management:
Hubspots back end system allows its users to update maintain content. Updates to content on blogs and website pages are saved automatically and there are unlimited revisions.
A good all-round set of SEO features to optimise web content.
Set up and management of teams and user access to the back-end for security and privacy
Creation of forms and CTA's that are trackable and dynamic
Support for live chat and conversational bots with automation
Creation and modification of email templates using a drag and drop editor.
Content Publishing and hosting:
Hosting and Publishing of content to Blogs and Landing pages using Hubspots server infrastructure (no extra hosting costs required)
The possibility to connect your business domain to Hubspot hosted blog, web and landing pages.
Lead capture through website landing pages/blog posts/Videos using Call to action buttons, forms and chat bots and live chat conversations.
A/B testing on landing pages and emails.
High quality free business site and blog templates with mobile scaling included and some drag and drop customisation.
Support for hosting up to 250 videos – with lead capturing features and reporting (Embedded CTA's on videos)
Embedding tools so that you can embed lead capture tools such as forms, CTA's and videos onto pages not part of Hubspot.
SSL serurity for hosted pages is included
Contact management based on Hubspot CRM:
Access to Hubspot's free CRM tier with the addition of:
Segmentation with Up to 5 smart lists (lists of contact that update automatically based on contact properties etc) and up to 25 static lists (ones of lists)
Custom contact properties and basic lead scoring.
Free and native integration with Salesforce CRM (with these limitations: 1,000 field mappings 10,000 Salesforce owners,1 account)
Important extras:
Access to phone support
Basic support for powerlfull outbound advertising on supported platforms - allowing targeting and integrated reporting in Hubspot (

Limited to two connected accounts across any supported network, with up to $1K spend limit for 30 days. Website audience creation only).

Easy content migration tools to import existing web pages and blogs to Hubspot.
Lots of well documented ways to extend functionality.
99.4 percent uptime guarantee/data partitioning/GDPR compliance/content delivery network and security for your Hubspot hosted content.
As you can read, this is quite a long list of core features. There are many more things included and its worth going to their pricing page and clicking on 'See all features' to get an idea about the full list. I recommend that you hoover over each feature that you might be interested because Hubspot displays the details and limitations of each feature only when you hoover over it.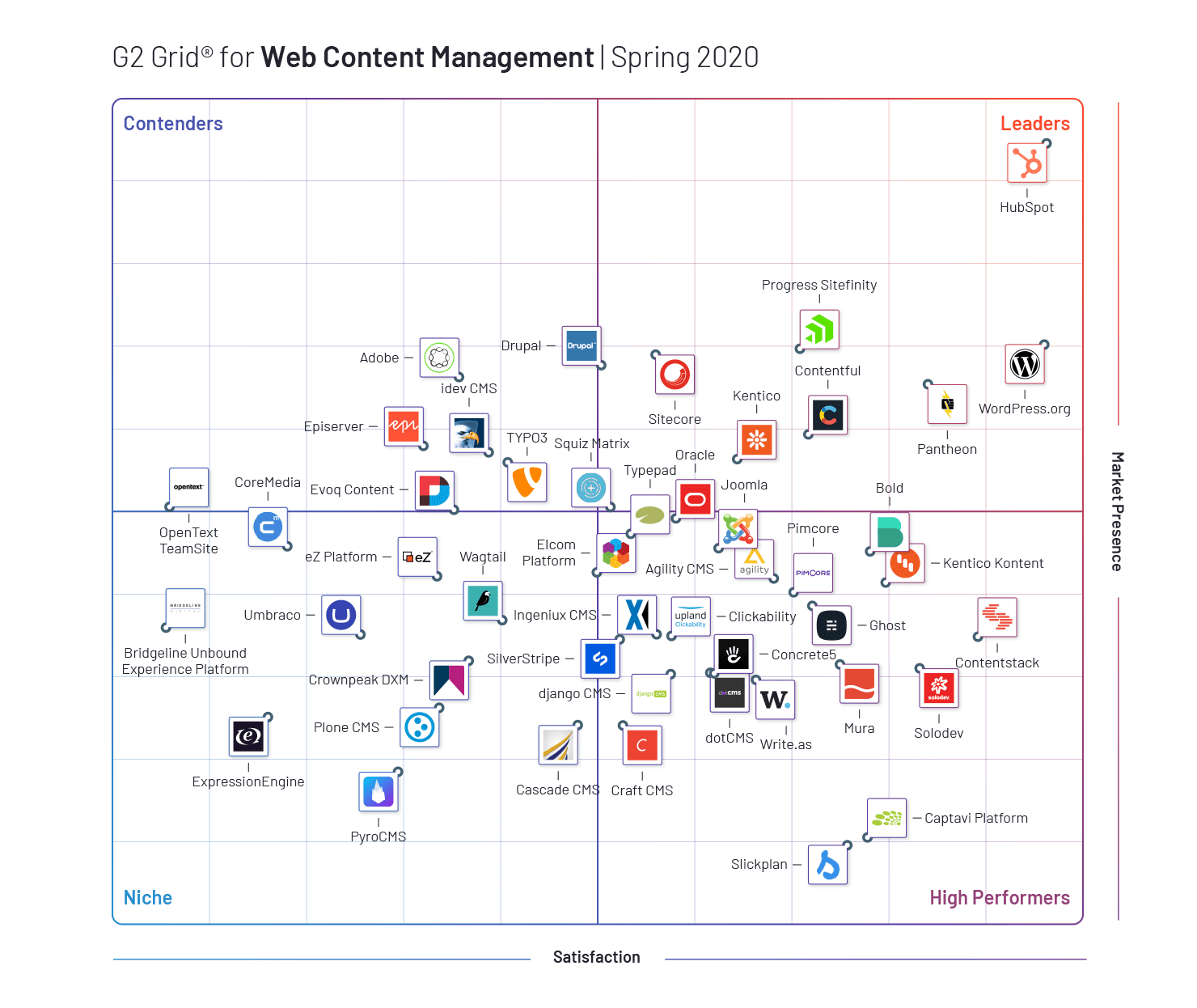 What can you do with Hubspot CMS Hub?
I hope that it is becoming clear that Hubspot CMS hub is more than just a basic CMS. It provides a way into Hubspots powerful eco-system of content channels and automation. You get tools to convert visitors into leads, such easy and tightly integrated ways to use forms, CTAs and chatbots. You can also get started with email on Hubspot as The CMS Hub package offers the ability to send upto 2,000 emails per month (upgrade to marketing required to remove Hubspot branding). Hosting of your content on Hubspots infrastructure means less worries about security. You get powerful reporting tools and basic marketing tools. You can integrate easily with your CRM of choice such as sales force, Dynamics, etc. to capture lead data directly to your destination of choice (though there might be some additional costs to activate these integrations). Hubspot provides many other tools and options that you can integrate with Hubspot CMS hub. There is enormous potential for expansion with additional Hubspot if and when you need them. The tools are all developed around Hubspots Inbound Marketing methodology but they are also usable for outbound methods such as ad campaigns and other modern marketing and communications methodologies such as Growth Driven Design (GDD), Conversational Marketing or Account Based Marketing.
Let's look at a few use cases for Hubspot CMS Hub:
Migrating content from an external website to Hubspot CMS Hub:
Scenario:
You are a new Hubspot CMS user and would like to migrate the web pages or blog posts from your website to Hubspot CMS and publish them from there. You would like to make the migration as seamless as possible. You want to keep your current themes and layout intact as much as possible.
Actions needed to get your website or blog pages imported into Hubspot CMS Hub:
Speak to your Hubspot account manager or agency partner. Hubspot offers a basic migration service to import your blog and page content and recreate your layout in Hubspot system. The first 20 pages are free after that there is a charge of around 20 USD or 18 Euros per page (but this can vary by region so best check the pricing). There are some limitations. You cannot automatically import dynamic shopping carts, comments, etc. though so if you don't want to have them migrated one to one. It's best to speak to your developers or agency partner about that. You might also be able to recreate this from within Hubspot manually by using their systems and plugins and migrating the content manually ones you have set that up.
If you just want to import your blog posts from wordpress and use them with a Hubspot theme, you can do this using Hubspot import tools:
Publishing and maintaining a business blog using Hubspot CMS Hub:
Scenario:
You are in charge of the blog within your organisation. A new content marketer is coming on board. They will be writing blog posts for your business. You want them to be able to add and stage the content in Hubspot but you want to review it before it is published. They should not be able to publish the content.
Actions needed to manage access to blog publishing in Hubspot CMS Hub:
Hubspot provides user and team management out of the box. In the Hubspot tool – you can navigate to Settings and users and security. You can create a user here and assign them the appropriate permissions. You can give them write permissions but not publish permissions.
You can also restrict them from seeing contact records and other private information using the security settings. Once they finished writing they can send you a review link and you can publish or schedule it after review. Hubspots built in AI will suggest good times to publish your content.
Capturing details from your site visitors and start live chat using conversational Bots:
Scenario:
On website page where leads go to sign up for a paid service you offer, you notice a lot visitors don't seem to complete the form. You want to add a pop up chat window to try and assist your leads with this process. The user should be asked if they need help and requested to provide contact details by the chat-bot if they do. After that they should automatically be routed to an available sales rep.
Actions needed to get a chat-bot working using Hubspot CMS Hub:
Are simple to use but very feature rich in Hubspot. You can create and build the chatflow (as it is called in Hubspot) using their visual editor under Conversations > Chatflows
You can also dynamically assign the chat to a Hubspot user if they are available and to inform the visitor what happens through the chat-bot if they are not. You can even send them to a meeting booking link that will allow them to book a time and date for a callback. This can be linked directly to a Hubspot/outlook calendar.
Once you have created the chat flow, you can easily insert it into any page you would like it on. You can also specify other dynamic options for it to appear. Have look at Hubspots how to guide for a full guide on creating a chatbot.
Running a membership based site using Hubspot CMS Hub (Only available in Hubspot CMS hub Enterprise tier):
Scenario: You run a training company and have been offering classroom training on personal development for quite a while. You want to offer a private member based section on your Hubspot hosted website where your customers can access exclusive online training and other personal development support.
Actions needed to set up a membership site using Hubspot CMS Hub:
To set up membership area access there are 4 actions needed. First it is important that you use a Hubspot template layout that can accommodate the membership specific modules. Hubspot offers Specific themes that support this or you can get your developer to add the needed code to any customer templates you would like to use.
Next you should create a list in Hubspot CRM and add all contacts that should have access to the content. You can now go to your website pages and select one or multiple that require registration using the control audience access option. Pick the list you created in the previous step. As soon as you do this, the members of this list will be sent a registration email. You can easily set new settings to be visible to members only by going to their advance settings. You can set up global options and customisations for your registration email and members area under Settings > Private Content
Ease of use and documentation:
You have probably noticed that I linked to knowledge base items and other Hubspot help center content for each of these use cases and their actions. This brings me to another important benefit to Hubspot CMS Hub and indeed Hubspots entire product suite. They focus heavily on user experience. This means that the interface of their product suite is quite consistent and straight forward to use. Hubspot product features and knowledge base content is generally well written and clear. They use a lot of animated images to show you how things are done. It's generally easy to find 2 "Howto's" and helpful content. Their Knowledge base content is generally well maintained. It is often directly fed with new details by the service department through user feedback. This makes it deceptively simple to use their products to accomplish quite advanced and complex results. This is a big selling point over many CMS's that are either limited in scope, inconsistent in use, or lack clear documentation
What does Hubspot CMS Hub cost?
While the price and feature list for both the Hubspot CMS Hub tiers seem fairly straight forward, there are some set up costs to moving to Hubspot CMS. There are also likely to be other Hubspot costs down the line due limits to features that are core to your experience in CMS hub. Have a look below
Hubspot CMS Hub product cost:
The 2 tiers are easily distinguished. Most organisations can start out with the Pro tier. There are only 2 reasons to upgrade to Enterprise. To make use of Hubspots membership site features and/or to support server-less features and web apps.
At the time of writing these (around may 25th) are the starting points on offer:

Hubspot CMS Hub Setup and migrations costs:
There are a number of variables that have an impact on the set up costs. They depend on how dynamic your current website is; how many pages you need to migrated; whether you want to stick with your current layout or switch to a new design; if you have in-house developers/IT to assist with the needed tasks or If you plan to use a Hubspot partner agency to assist with the design. If you just plan to migrate the data, use a Hubspot business theme for your layout and have some basic IT expertise on hand to deal with domain setup/redirects there doesn't have to be any cost involved. In most cases though new customers will likely either use a Hubspot partner agency or at the very least use Hubsposts basic migration services. This service comes with 20 free pages and 18 Euro per page thereafter for the content and styling migration. Have a look at the use case above where we discuss moving pages across.
Other Hubspot CMS Hub operating costs:
If all you need is Hubspot CMS Hub functionality and you don't plan on making many iterative changes to your website themes and functionality/make these changes using existing in-house developers, you won't have to many additional operating costs. In most cases though you are probably considering Hubspot because you want to make use of its dynamic features such as AB testing support to optimise your site and might want to expand into its marketing or sales product suite. Adding on marketing products and their contact tier add-ons can get very costly very quickly. It's worth considering a Hubspot agency to see how your growth plans and budget might fit with Hubspots Inbound ecosystem. Don't hesitate to contact us at Aboutinbound for some independent advice.
Make sure you check feature details and limitations before you decide to buy Hubspot CMS hub:
Hubspot does make it a little bit tricky to see what details and limitations are included with each feature at first glance but they do show this information. I mentioned it earlier but I'll mention it again as it is very important for being able to predict your costs. Make sure to go to the pricing page of the Hubspot CMS Hub. Click on See all features to open the pop up window and hoover over each feature that you plan on using to see whats offered in more details. Have a look at the below example: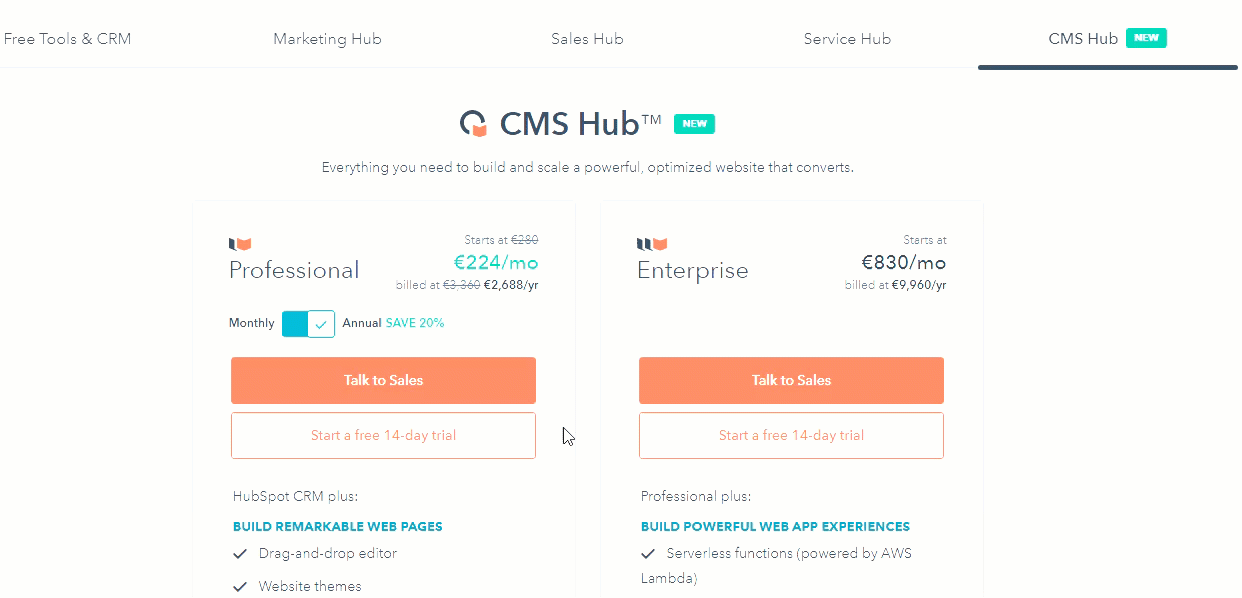 Note that to find out that the included emails have Hubspot branding i had to go to - See all features and hoover over that feature to see the details tool tip. You would have to upgrade to marketing starter to remove the branding from these emails, which would lead to additional monthly costs.
Who is Hubspot CMS Hub for?
Hubspot CMS Hub is not for small companies with limited budgets. It's built for fast growing or well-funded organisations that either sell high value services and products or have a major need for smart communications across many channels. CMS Hub provides a technical starting point to allow senior content managers and CTO's to open the door to Hubspots Inbound ecosystem. There is also a focus on startups by Hubspot. They offer many discounts and additional supports for these young businesses.
The Hubspot ecosystem lends itself well for SAAS companies and organisations that are already adapting business concepts such as unit economics. Companies that have big Live Time Value propositions and are looking for customer driven methods to build long term revenue growth. If you notice the words starting point mentioned a lot during this review. To get the most value back out of Hubspot CMS, you will likely want to invest in Hubspot specific web developers, or look into other Hubspot products such as Hubspot Marketing that each come at additional cost.
Is Hubspot CMS Hub right for you?
This brings us to where you will need to make up your mind.
Here are some consideration points to see if Hubspot CMS Hub is the right fit for your organisation:
Does your organisation have the budget to switch to or start with Hubspot CMS hub and can they commit to the operating costs?
Are you aware of Hubspot inbound methodology and are you and your stake holders convinced it that you can make it work for your business model?
Can you see the value in Hubspots products and do you and your stake holders see that it is worth the investment?
Does Hubspot offer the integrations you need to connect it to your existing systems and what are the costs for implementing and maintaining them.
If you are considering whether to take the plunge or would like some advice on implementation or maintenance for Hubspot products, don't hesitate to book some time with us: