Last year we looked at the possibility to integrate Microsoft Teams meetings with the Hubspot meeting scheduling tool. At that time, it was possible to automatically have a meeting that was booked through the Hubspot automatic meetings scheduler sent to your Microsoft Office365 Calendar, but it was not possible to automatically include a link to a Microsoft Teams meeting.

We have been keeping an eye on this feature ever since we first wrote about it because we have heard that many people are looking for this integration. Spoiler alert, there is still no native integration that allows us to use the Hubspot meeting scheduler tool to send out invitations with automatically generated Meeting links for Microsoft links. But we expect that this will become available very soon because Hubspot has confirmed that they have been working on a solution for some time. So, let's explore where things stand one year on.
Why was it not possible to integrate Microsoft teams meetings scheduling in the past?
In early 2020 the pandemic took everyone by surprise. The big scramble to continue to be productive and to move workforces to home working, accelerated the use of all meeting tools. Microsoft was working on improving their Office365 suite to be more remote working friendly and had only recently integrated some of their collaboration tools into Microsoft teams. One of the areas where Microsoft did not have fully finished functionality, was for their API's. These APIs are needed to allow systems that are external to Office365 (such as Hubspot) to communicate with the tools within and exchange information/trigger actions for Microsoft Office365 applications.

A working API for Microsoft Teams meetings is required to use the information that is generated by Hubspot when a website visitor books a meeting and return a generated meeting link to Hubspot. In late 2020 Microsoft had released a beta suite of APIs (called Graph) which did allow some access to Microsoft teams meeting functionality from external tools, but it was only available for testing and not for use in "production" at the time. So, there was no safe way to integrate Hubspot and Teams meetings at that point.
Another way you could get around using an integration was to generate 1 meeting link that would stay valid forever and to just include that in the follow up email that is automatically generated when a person books in a meeting through the Hubspot meetings scheduler tool. Unfortunately, Microsoft Teams did not allow us to generate meeting links that stay valid forever in the past (unlike competitors such as Zoom and Google) because they see this as a security risk. in 2021 there are now ways to generate this link using a workaround (more on this below) but Microsoft still seems not willing to officially offer this as a feature due to the associated security concerns.
Where things stand today between the Hubspot Meeting scheduler and Microsoft Teams meetings…
Both Hubspot and Microsoft have listened to feedback and have been working to create an integration to allow for Teams meetings to be automatically created and shared when a meeting is booked through the Hubspot meetings scheduler. Recent updates by Hubspot show that they have been working on a native integration which is currently in the beta testing phase. The last update about the features included in this integration are, was by by the product team on the Hubspot community and was posted to the community thread about the integation: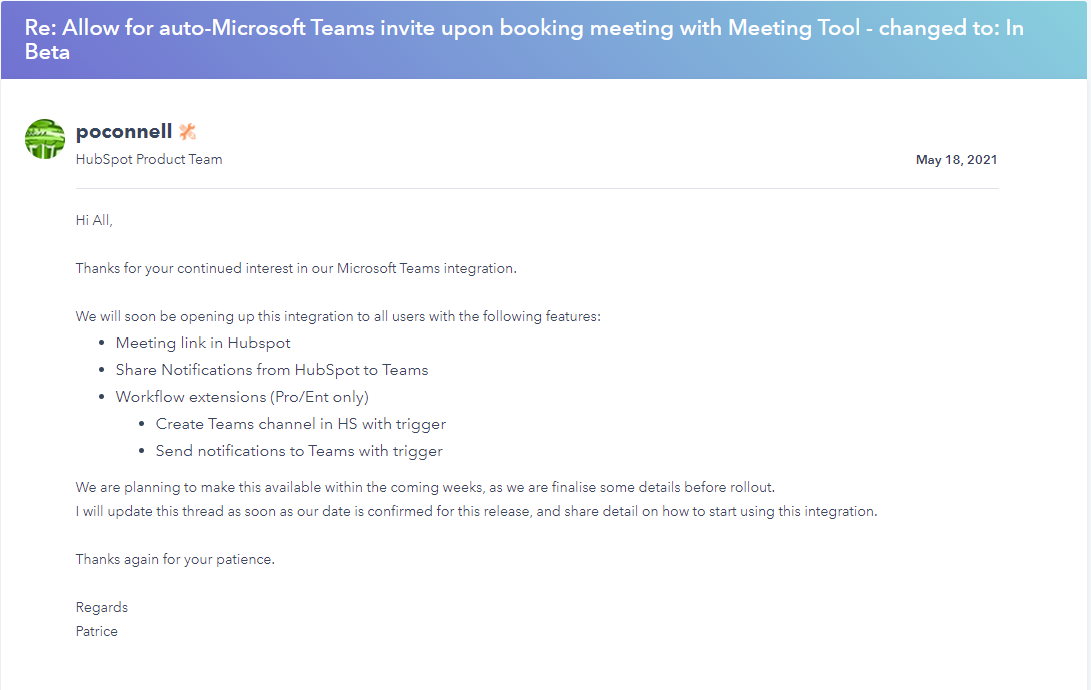 Last update on the teams integration features in development by "poconnel" of the Hubspot Product team:
"Thanks for your continued interest in our Microsoft Teams integration.

We will soon be opening up this integration to all users with the following features:
Meeting link in Hubspot
Share Notifications from HubSpot to Teams
Workflow extensions (Pro/Ent only)

Create Teams channel in HS with trigger
Send notifications to Teams with trigger

We are planning to make this available within the coming weeks, as we are finalise some details before rollout.

I will update this thread as soon as our date is confirmed for this release, and share detail on how to start using this integration. "
Unfortunately during their most recent update about their progress with this integration at the end of August 2021, they mentioned that some problems still prevent them from making this available to all Hubspot customers:

It does look very likely that a fully working integration for automatically scheduling meetings between Hubspot and Teams is very close to available but as of yet there is no clarity around when exactly it will be released.
Update Feb 2022:
Hubspot seems to be making progress with its integration and we have recently seen a google form appear for users to request early access to it's public BETA features. Here is the latest update from the Hubspot ideas thread about this topic: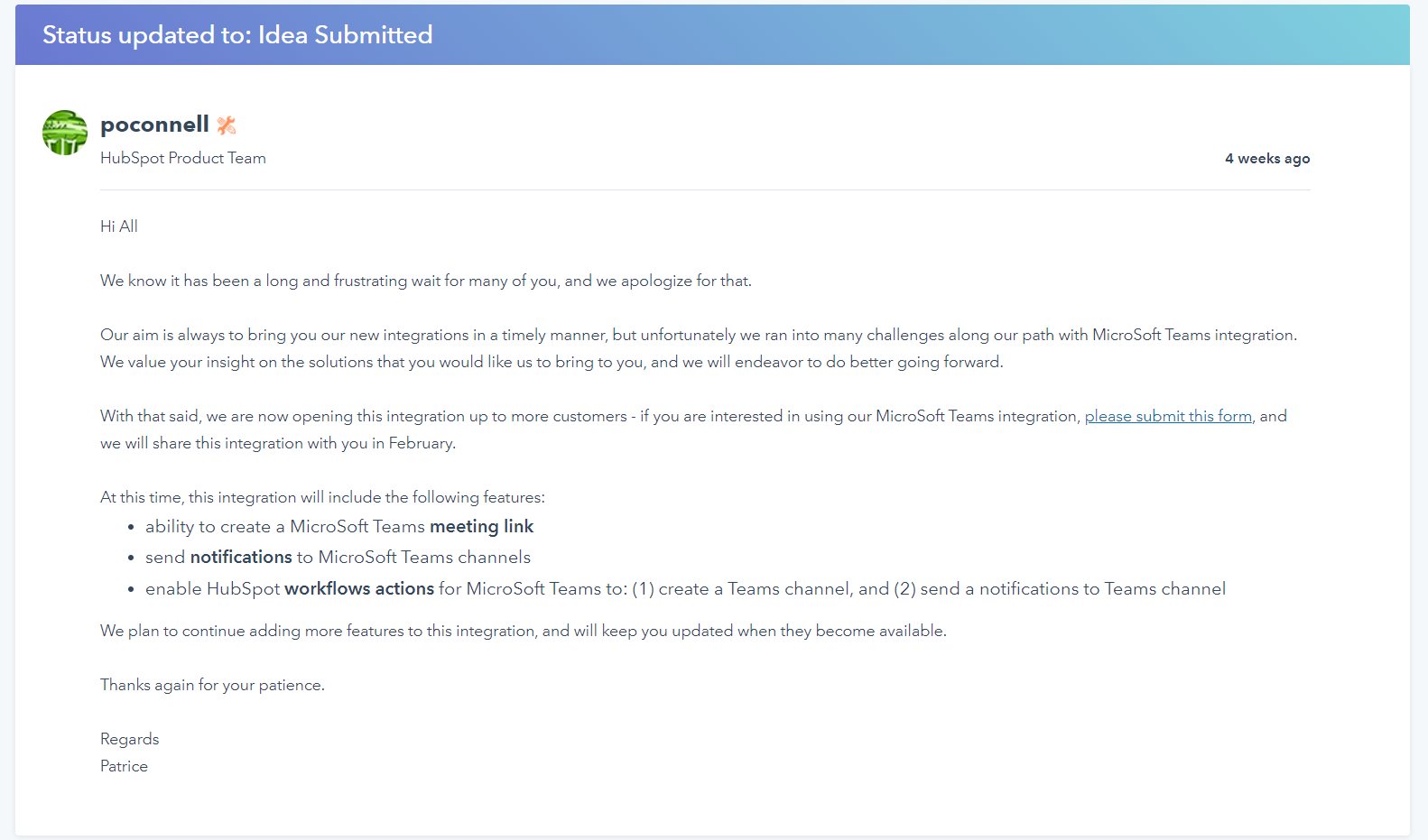 The link to this form is: https://docs.google.com/forms/d/e/1FAIpQLSctIljykCqp4qSA4qM2j5F-oHxmJIIRAXZsUGG8dHxBtYYucA/viewform?__hstc=20629287.88b90224925773a215de9d2b26db273c.1629802109504.1641556116316.1644847702325.24&__hssc=20629287.8.1644847702325&__hsfp=1680013898
Unfortunately the form states that submissions have been temporarely closed: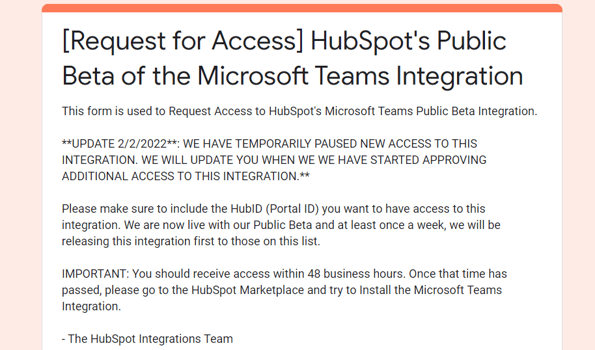 But it does like we are very close to getting this much requested integration.
So what are your options if you want to integrate HubSpot's teams meetings scheduler and CRM tools with Teams in September 2021?
If you do not have the time to wait for the official integration and have access to and budget for Hubspot developers to create your own custom integration using the Microsoft API's, you can get them to review this documentation about the Microsoft Graph API for Teams meetings to get them started.
Another option would be to use an unofficial workaround and create Microsoft teams link and add that to each email from the meetings scheduler you can find some information about how to do this by reading through the comments in this uservoice.com thread about Microsoft Teams. Since this not officially offered a feature by Microsoft and their are many security concerns with allowing open access to these meetings we do not recommend that you use this option to schedule external meetings.
Make sure that Hubspot and Microsoft know that you need Hubspot Meeting scheduler to work with Ms Teams meetings.
We do recommend that you wait for the native Hubspot integration to be officially available if you can. Make sure that keep an eye and add your voice to this Hubspot community forum ideas threat. Alternatively, you can also upvote and/or add your comments for Microsoft to make permanent links for meetings an official feature in Microsoft teams meetings on this user voice thread.